Apple's very best are on a collision course to take on Google's mightiest smartphone this fall. Although neither has been officially announced, an Apple iPhone 15 Pro Max vs. The Google Pixel 8 Pro match is definitely one of the most sought-after comparisons that people will definitely keep an eye on when they are gathering gift ideas for the holiday season.
Leaks and rumors surrounding both flagship devices have been rife as we are not too far from when both phones are expected to be unveiled. Apple is expected to announce its new iPhone 15 lineup in September, while Google's Pixel event is likely to take place in October – with both falling in line with the same time frames as last year's events.
These are legitimate top contenders for the best smartphones out there because you can bet they'll be packed with exciting features that only true flagships can get. We know a lot more about the iPhone 15 Pro Max, which is being hailed by many as the biggest leap since the iPhone X. As for the Pixel 8 Pro? There are fewer leaks about it, but you can bet it won't be a slouch in the camera department.
In this iPhone 15 Pro Max vs Google Pixel 8 Pro comparison, we'll break down everything we know about these phones to see how they really stack up against each other.
iPhone 15 Pro Max vs. Pixel 8 Pro: Rumored specs
Swipe to scroll horizontally
| | | |
| --- | --- | --- |
| | iPhone 15 Pro Max | Pixel 8 Pro |
| Price | $1,099 or $1,299 | $899 |
| Screen | 6.7 inches | 6.8 inch QHD AMOLED |
| Refresh rate | 120 Hz | 1 – 120Hz adaptive |
| Rear cameras | 48 MP main + ultrawide + telephoto | 50 MP main + 64 MP ultrawide + 48 MP telephoto |
| Front camera | REACH | 11 MP selfie |
| Chipset | A17 Bionic | Google Tensor G3 |
| ram | 8GB | 12 GB |
| Storage | 256GB/512GB/1TB | 128GB/256GB/512GB |
| Battery | 4,852 mAh | 4,950 mAh |
| Charging | 27W (wired), 15W (wireless) | 27W (wired), 12W (wireless) |
| Water/dust resistance | IP68 | IP68 |
iPhone 15 Pro Max vs. Pixel 8 Pro: Price and Availability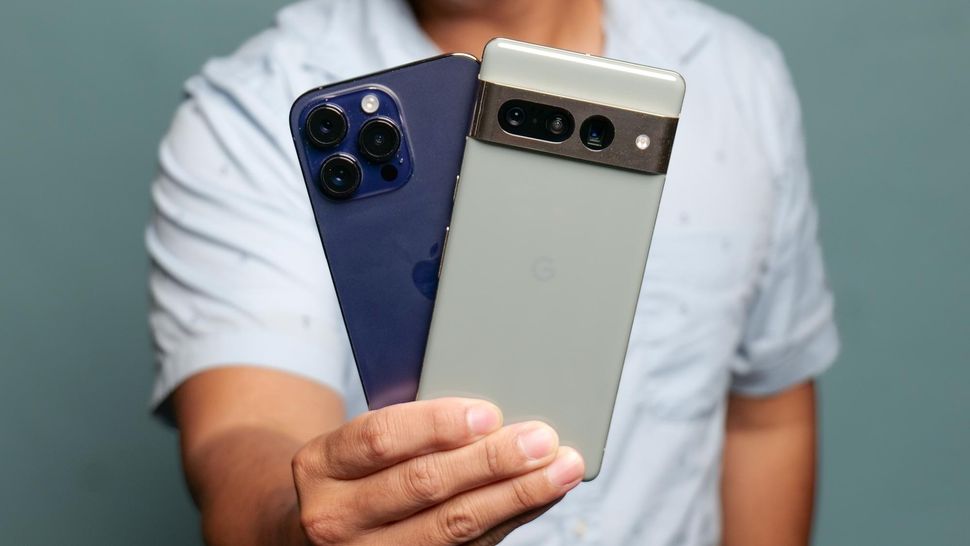 One thing we're all crossing our fingers for – and hoping doesn't happen – is a price increase on the iPhone 15 Pro Max. While we'd be thrilled to see it at the same price point as its predecessor, this year's flagship could see a price increase of upwards of $200, largely due to how it could pack a more durable titanium frame, exclusive periscope telephoto camera, and more. This would result in a starting cost of $1,299 for the flagship, which is staggering.
This could be the Pixel 8 Pro's opportunity to undercut its main rival, even if Google chooses to maintain its pricing. That's because the Pixel 7 Pro launched at an impressive price of $899, which is remarkable compared to the iPhone 14 Pro Max's starting price of $1,099. Even if Google ends up giving the Pixel 8 Pro a price hike, it will likely still be smaller than the iPhone 15 Pro Max.
As for when they come out? All fingers point to a September 13 date for Apple's iPhone 15 event – with a release sometime the following week. That would likely mean September 22nd for the release of the iPhone 15. If Google ends up having its Pixel event in early October, then a release later this month isn't out of the question.
iPhone 15 Pro Max vs. Pixel 8 Pro: Design and display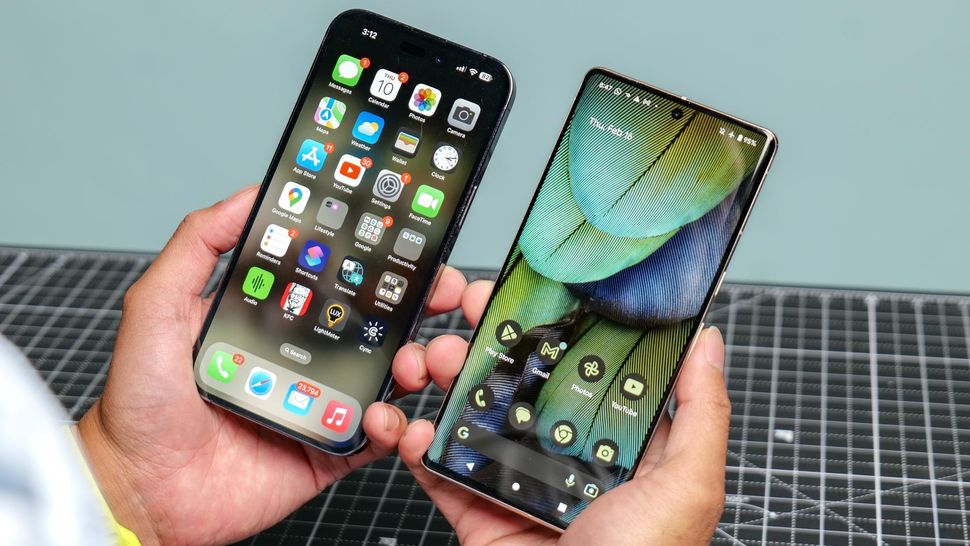 Between the two, it seems that the iPhone 15 Pro Max will receive a more significant change with its design. In addition to leaks that suggest a titanium frame, the iPhone 15 Pro Max could switch the Lightning port in favor of USB-C, add a similar action button to the Apple Watch, and potentially the thinnest bezels to grace the iPhone ever. While it will very much be an iPhone, you can expect nothing less than premium materials and craftsmanship with its design.
The Pixel series saw its biggest design change in 2021 when it switched from the Pixel 5 to the refreshed look of the Pixel 6, and since then there hasn't been a dramatic shift to the design language. We don't expect the Pixel 8 Pro to deviate from the norm, so we expect only the usual iterative upgrades. Possible new changes to the Pixel 8 Pro design include a switch to a flat screen, rounded corners and a single cutout for the camera arrangement.
Taking all the leaks into account, we feel the iPhone 15 Pro Max would still have the more premium look and feel – but they should both at least have IP68 ratings, just like their predecessors.
Regardless of whether the slimmer bezels prove to be true for the iPhone 15 Pro Max, it will be interesting to see if Apple will boost the resolution of the Liquid Retina XDR display with ProMotion. The iPhone 14 Pro Max currently has a screen resolution of 2796 x 1290 pixels. Therefore, the iPhone 15 Pro Max will likely measure in at the same 6.7-inches, but it is rumored to reach an incredible brightness of 2,500 nits, according to details shared by ShrimpApple Pro and OreXda on X (formerly Twitter).
Apart from the potential of a flat screen, the leak does not indicate that we will see any significant changes with the Pixel 8 Pro's display. If the leaked spec sheet is to be believed, we're likely to get a 6.7-inch LTPO OLED display with a 120Hz refresh rate. One improvement we should get is that it reaches a maximum brightness of 1,600 nits, up from its predecessor's rating of 1,400 nits. However, the leaks point to one drop in screen resolution – from 3120 × 1440 on the Pixel 7 Pro to 2992 × 1344 for the Pixel 8 Pro.
iPhone 15 Pro Max vs. Pixel 8 Pro: Cameras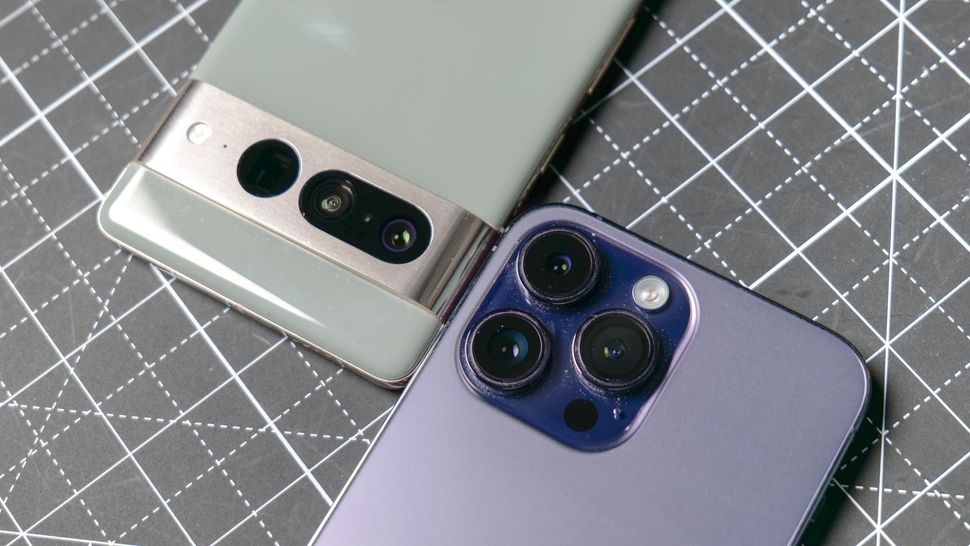 Both flagships will undoubtedly be in the conversation for the best camera phones, so you can expect nothing less than perfection from these flagships. While the two series have constantly battled over who has the better set of cameras, it could be an even playing field for this upcoming generation after looking into the leaks and rumors.
Let's start with the iPhone 15 Pro Max, which will reportedly get a periscope camera lens that will extend its reach to 6x optical zoom. That would be an improvement over its predecessor's 3x optical reach, but more importantly, it would be more than the Pixel 7 Pro's current 5x optical zoom. Additionally, there may be a larger 1-inch sensor behind its triple camera arrangement – leading to better low-light performance and increased overall clarity for photos.
Google prides itself on how good its Pixel phones are at taking photos, and the Pixel 8 Pro should be no exception. Leaks suggest that it will use a Samsung ISOCELL GN2 sensor for its 50-megapixel main camera, while its ultra-wide camera will inherit a 64-megapixel Sony IMX787 sensor. These are two excellent upgrades to expect, but it looks like the telephoto camera will still remain at 5x optical zoom.
Interestingly, we can also get 8K video recording on the Pixel 8 Pro using the new Tensor G3 chip it will pack.
iPhone 15 Pro Max vs. Pixel 8 Pro: Performance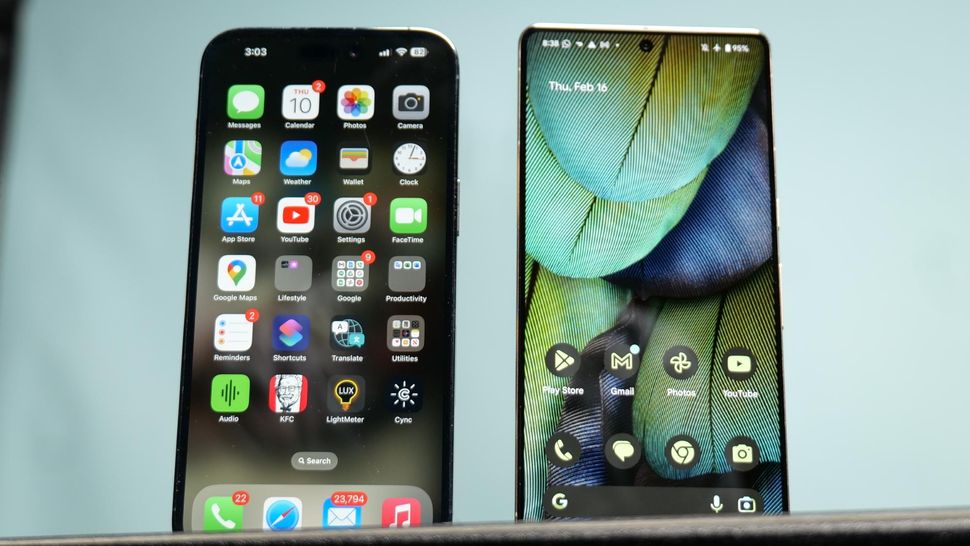 In our Apple iPhone 14 Pro Max vs. Google Pixel 7 Pro face-off, we saw how Apple's flagship easily beat the Pixel 7 Pro in almost every synthetic benchmark test we ran. It was a one-sided affair, but the next generation could be more evenly matched.
Not only could the Tensor G3 give the Pixel 8 Pro 8K video recording, but it will also give the phone a much-needed boost in the graphics processing department. That's because it will likely adopt the Arms Mali-G715 GPU, which would utilize a ten-core arrangement.
Apparently, Apple will not back up in this area. That's because the iPhone 15 Pro Max will pack Apple's new A17 Bionic chipset, which will begin the 3nm process. If past results are any indication, we could very well be looking at one 35% boost in its energy efficiency.
We don't know for sure which one will come out on top, but regardless, their real-world performance shouldn't differ from everyday tasks like navigating their interfaces, surfing the web, or running your favorite apps. It also helps that they offer smooth and silky motion thanks to their 120Hz screen refresh rates.
iPhone 15 Pro Max vs. Pixel 8 Pro: Battery life and charging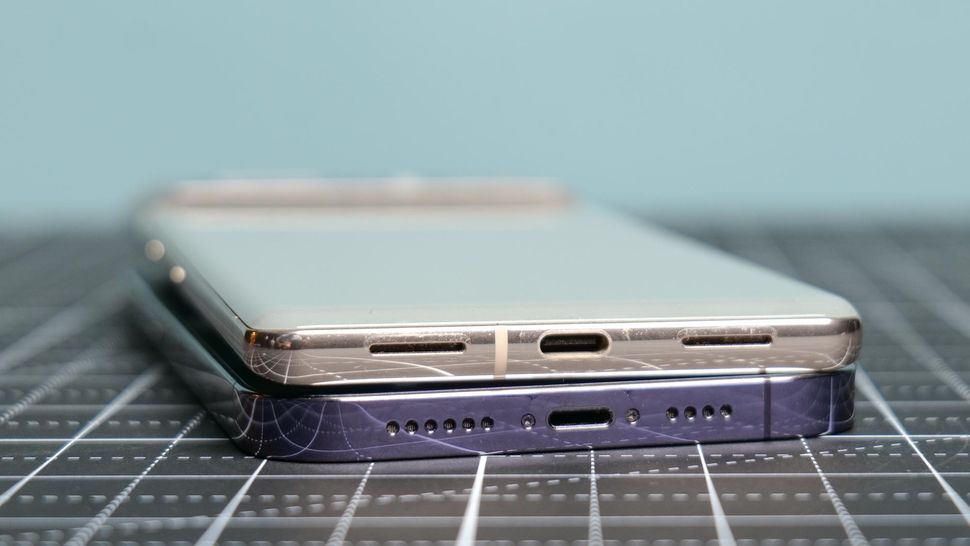 One area Google desperately needs to focus on is battery life with its upcoming Pixel 8 Pro. If we look at how the Pixel 7 Pro fared in our custom battery benchmark test, it was far behind at 8 hours and 4 minutes. In contrast, the iPhone 14 Pro Max delivered an impressive 13 hours and 39 minutes – even with a smaller battery.
From the looks of it, there won't be a massive increase to the Pixel 8 Pro's battery capacity. In fact, just get one minor increase to 4,950 mAh, which is up from the Pixel 7 Pro's 4,926 mAh cell. Knowing this, there will be a stronger spotlight on the Tensor G3's power efficiency if it intends to match what Apple is working on with the iPhone 15 Pro Max.
A recent report indicates that the iPhone 15 Pro Max will get a boost to a 4,852 mAh battery – a steep increase over the iPhone 14 Pro Max's 4,323 mAh battery. Paired with the new power efficiency of the A17 Bionic chip, Apple's upcoming flagship could make more strides in improving its lifespan. We'd be impressed if it could reach 14 hours in our battery test, which no flagship phone has yet achieved.
With iOS 17 packing StandBy Mode, we suspect more people would be inclined to use MagSafe charging over other traditional options. While the iPhone 15 Pro Max is expected to continue to offer 15W MagSafe charging, a leak suggests support for new Qi2 wireless charging standard — effectively providing the same fast 15W wireless charging as MagSafe charging. And with the iPhone's expected adoption of USB-C, it is could move the cable charging to 27W.
Google is also rumored to be giving the Pixel 8 Pro the same 27W wired charging speed treatment, but wireless charging doesn't seem to get a boost, meaning it stays at the same 12W speed.
iPhone 15 Pro Max vs. Pixel 8 Pro: Outlook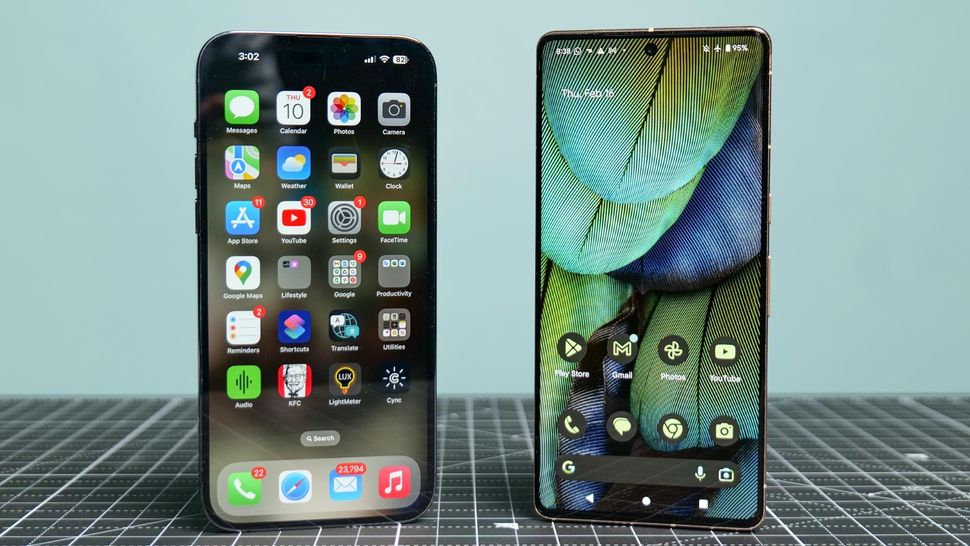 After we've looked at everything they're expected to offer, it looks like the Apple iPhone 15 Pro Max will be the more notable of the two phones given all the expected upgrades. However, we cannot overlook the Pixel 8 Pro as there are still far fewer leaks about it. Google could very well throw us a curveball that catches us all off guard, but we feel the prices and camera performance remain the best qualities.
Pricing is important at this point, mainly because we could very well see a significant separation between the iPhone 15 Pro Max and the Google Pixel 8 Pro when they are revealed. Previously, the two flagships were separated by a few hundred dollars, but this year we could see the difference widen – which would definitely give the Pixel 8 Pro the edge.
More from Tom's Guide
#iPhone #Pro #Max #Pixel #Pro #faceoff #flagship #win