GREENVILLE — The Clark family of Greenville, Illinois, posts videos online of themselves doing silly, ordinary things.
Each member of the family tries e.g. the same shirt. Or they see how many steps they skip when they go upstairs.
In total, and across all platforms, the videos have been viewed nearly 3 billion times.
It's not a mistake. It's not a typo. Three billion times. Billion, with a B.
In fact, it is only 2.85 billion times. But they will soon reach 3 billion.
In the world of filmed social media, you have to get a gimmick. And the Clark family's gimmick is that they are tall.
19-year-old Carter is 7 feet, 1 inch tall. His father, Rob, is 6 feet, 6 inches — tall enough, but a full 7 inches shorter than his son. The comparison is not lost on him.
"I used to be tall. People would say, 'Oh, you're tall.' I don't hear that anymore," says Rob Clark.
The oldest daughter, Abby, 17, is 5 feet, 10 inches. The youngest daughter, Avery, 14, tops her at 6 feet, 2 inches. Mom Rachelle is 5 feet, 9 inches. And 12-year-old Luke is 5-foot-5 and growing.
Collectively, they are known as That Tall Family. At least that's what people called them, so Rachelle suggested the name for the short videos — many are just 10 to 20 seconds long — that they post on TikTok, Facebook, YouTube and Instagram and on their own website.
Rob Clark says some people watch the videos because the family is "just a little bit different. It's not radically different. Just enough to notice."
So when the family members try on the same shirt—a T-shirt usually worn by Carter—there's visual humor in seeing the shirt seem to get progressively bigger on the progressively smaller siblings. And when they jump over steps that go upstairs, they don't skip more than one – except for Carter, who can scale four flights of stairs in a single step.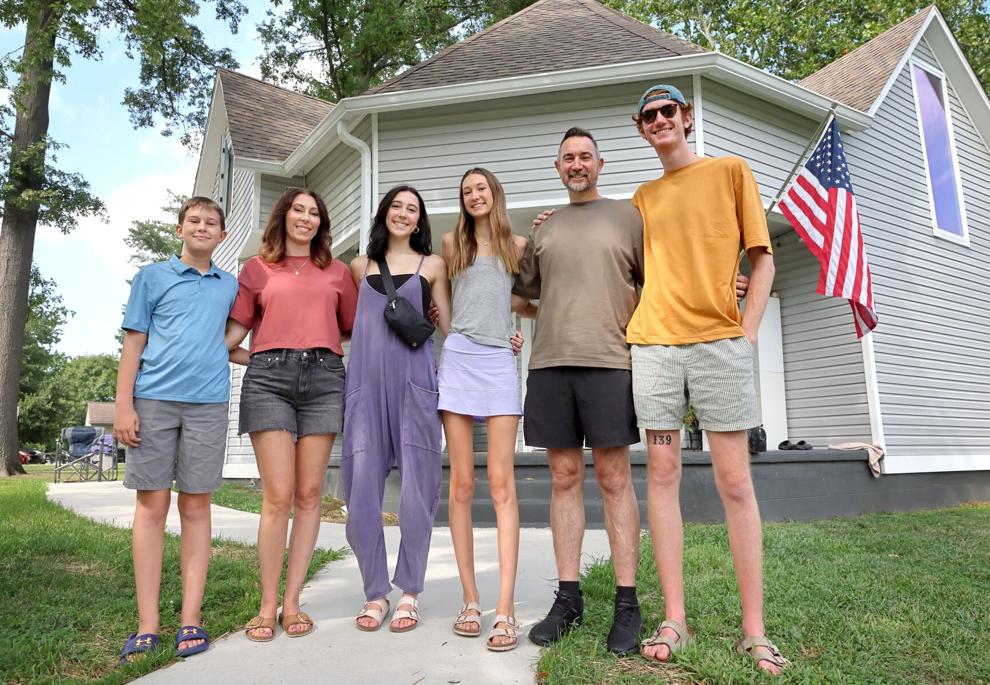 As the tallest, Carter serves as the visual punchline for many of the videos. In one, the two girls try to jump up and touch a Lululemon store sign maybe 8½ feet off the ground. They get close but Carter just walks over and palms it without even jumping.
Another shows Carter with his hand high above his head. The others try to jump and give him a high-five. Only 6-foot-6 Rob succeeds, though he misses on his first attempt.
That clip has been viewed 220 million times.
Because of his extraordinary height — he said he's never met anyone taller than him — and the silly good nature of the videos, Carter has become something of a social media star. He has even received marriage proposals. About half have come from women in foreign countries using Google Translate to make their wishes known, with varying degrees of success.
A longer four-minute video shows the family on a typical day, with Rob asking the kids how their days went at school, going out to dinner at a vegan gastropub in St. Louis and then heading to a store to look at toys.
One commenter wrote: "Lovely you can have all the family members hang out with you. We never get our 4 teenagers together to do things."
Rob Clark says the reaction is another part of their appeal. They are clearly a family who love each other and enjoy spending time together, even teenage siblings.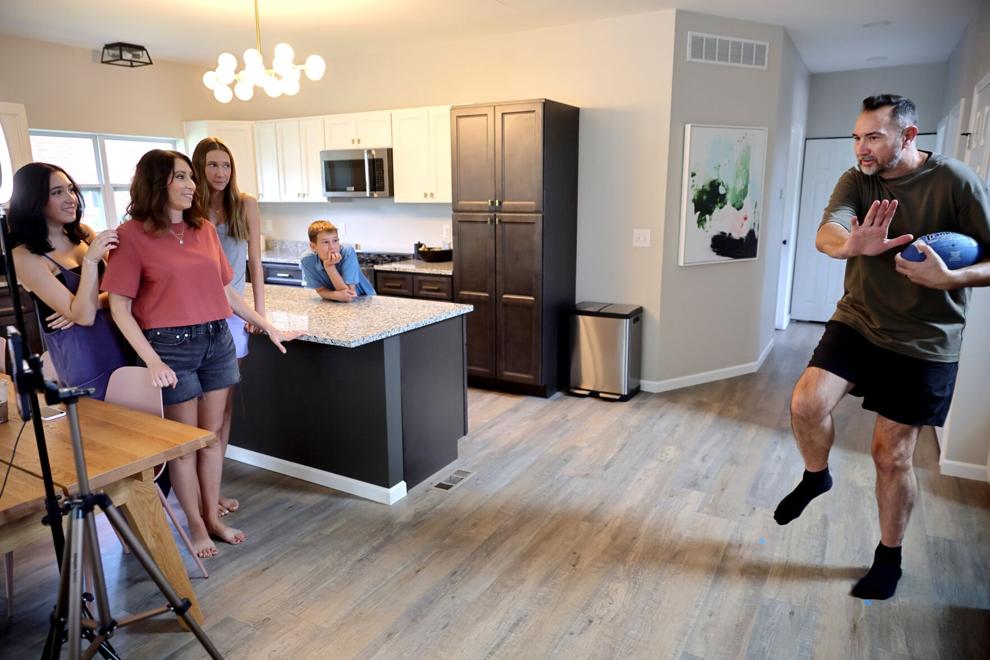 And there's also this: They're healthy. There is no gang, ever. They even make sure that the songs they play behind the videos are clean and harmless and family friendly.
"We don't get political. We don't push our views. We want it to be positive content," says Rob Clark.
Rob and Rachelle met at Greenville University, a few blocks from where they now live. He played basketball; she is, she admits in a video, a bit obsessed with the sport. After graduation, they moved back to Saskatoon, Saskatchewan, where Rachelle is from.
They stayed in Canada for 20 years; Rachelle had a degree in communications and Rob worked in education, insurance and was an executive pastor in Vancouver, British Columbia.
"All the jobs I did, I always used social media," he says.
And he was also on social media at home just as it started. His first video was a clip of 1-year-old Carter putting on socks. He posted it on YouTube, which had just started, and he's been involved in social media ever since.
The family eventually decided to move back to America, in part because Carter wanted to play basketball, which is not as popular a sport in Canada as it is here. They first went to a small town in Michigan where Rob's former basketball coach was working as a college administrator.
Rob Clark shot an 11-second video of the coach passing a ball to Carter, who made a 3-point shot. The coach handed it back to him and Carter dunked it.
Rob posted the clip on Twitter, thinking people would like to see his old coach working with his son. But a friend saw it and forwarded it to a friend of his, NBA legend Shaquille O'Neal.
O'Neal said they should come down to Georgia, where he lived and where his son played basketball. They went to work out at Shaq's gym, as one does, and O'Neal convinced them to move to the Atlanta area.
The family was already tired of Michigan and the way everything was closed there at the beginning of the COVID pandemic. They planned to move to Houston, where Rob had a job lined up at his brother's company, but decided to move to Georgia instead.
The family continued to make videos while Rob looked for work.
"We thought we could do this and get some attention and eventually it will lead to a job," he says.
"About 6 months into it I realized this is the job," he says.
Tired of the fast-paced, big-city pace and Atlanta's notorious traffic, they moved back to Greenville a year ago. Carter and Abby will be attending Greenville University in the fall where they will both play basketball.
Making videos is now the family's full-time gig. YouTube and TikTok pay a small amount for every 1,000 views they get, but they average several million views per day across all platforms, including some that don't pay.
However, the majority of their income comes from sponsorships with a variety of brands, from Nickelodeon and Hasbro to Walmart and Sam's Club. They also made a video to promote the movie "Air" for Amazon Prime Video.
Their first branded video was for a game called Crossnet, which is sort of a combination of volleyball and four-square. It showed the girls playing the game with two of their friends and then Carter walks in with his intimidating height and blocks all the balls.
They were paid $500 for the video. It got 1.7 million views – and probably another few million now on YouTube, says Rob Clark.
They shoot a video every day and add to their catalog of around 900 clips. Meanwhile, they fill their time with other projects. Rob helps with Greenville University's social media and also writes a book on social media. In addition, the family has just launched its own line of clothing called Made.
With 3 million followers across multiple platforms, the family is usually recognized these days when they go out. People want to take pictures with them and ask questions. It's also always the same questions Carter says: How tall are you and do you play basketball?
And then, to keep the conversation going, they say something like, "Man, you're tall," he says.
"It's not like we're Hollywood famous and making millions of dollars. We're supposed to have fun," says Rob Clark.
"We are grateful. We are going to spend a lot of time with the family."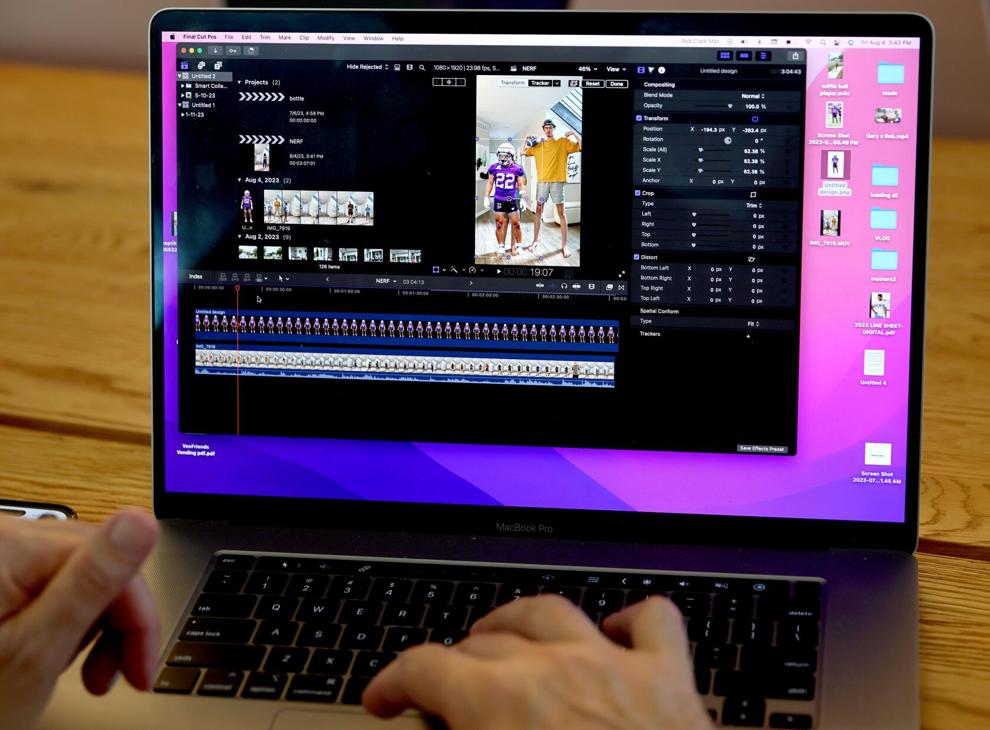 #Greenvilles #Tall #Family #internet #famous #tall